Frank Money, is a fun, quirky noir-style detective who sleuths financial literacy topics in
Talkin' Money Minutes, a new TV series which premiered on Public Television Stations nationwide  in early 2019 distributed through American Public Television (APT) and WUCF, Orlando, FL.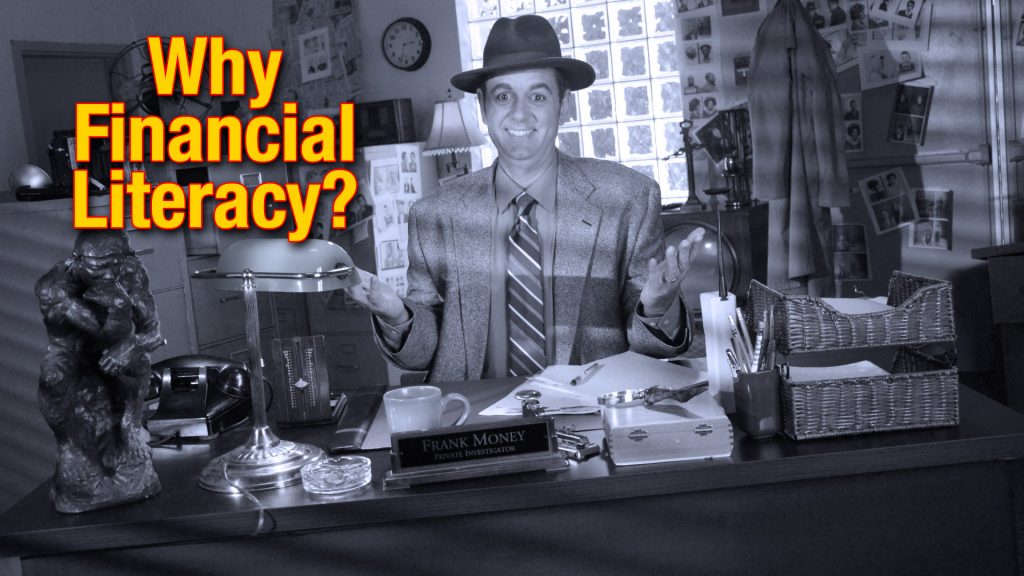 We sat down to speak with Mr Money, to ask him about the topic that drives him so passionately.
Q: Money is your passion – why financial literacy?
MONEY: So here I sit, enjoying a tall cup of Joe talking where I talk for a few minutes each day about Financial Literacy. It's my M.O. It's what I live for! If you read through my case files, you should already know the answer to this question.
Q: Why should you be Financially Literate?
MONEY: A study by the financial services company TIAA-CREF show that people with high financial literacy skills have double the wealth of those who do not. Also, those with low financial literacy skills pay a lot more for things.
So which would you rather be? The person who has more $$$ in their pocket, or the one who get's the bum's rush with their pockets empty?
Q: Isn't Financial Literacy a topic that makes most people roll their eyes – or even fall asleep, snoring loudly?
MONEY: Financial Literacy doesn't need to make you fried! Listen up Ace, it just takes a little effort to really understand what you need to know!
Want to keep up with your financial literacy skills? Visit this website often, where I post financial literacy tips regularly. Follow me on Facebook and Twitter @TalkinBucks  And watch us on your local Public Television station, where all the pieces of the financial literacy puzzle will begin into place.
Q: Tell us about Talkin' Money Minutes – Season One.
MONEY: Season one features eighteen timely, two to three minute long financial literacy shows featuring featuring me – Frank Money. They are funny, they are entertaining, and most importantly they deliver important financial literacy topics in a way my audience will find easy to understand. With our first season we are on track to reach over half of the good old USA.
Q: Do you have anything you can show us? What about a look behind the scenes?
MONEY: Absolutely! Here's a little clip showing how much fun for me this show has been!
---